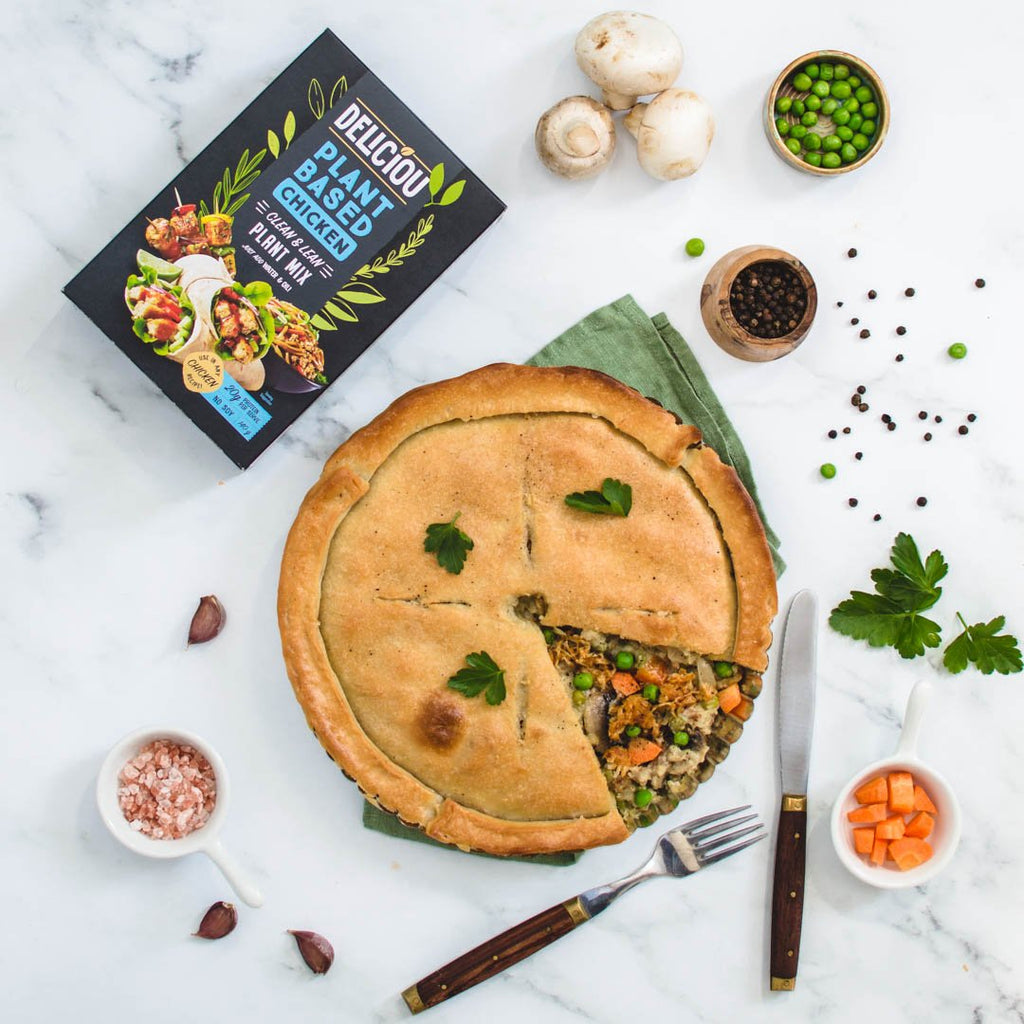 Chicken Pie
Posted on May 18, 2021
Eyes on the pie! This simple pie is hearty and filling and perfect for a cold winter's day. Or any day really - it's that good!

Prep time: 10 mins
Cook time: 45 mins
Serves: 6

Ingredients:
2 sheets shortcrust pastry (vegan)
For the filling
:
1 box of

Deliciou Plant-Based chicken

1 large brown onion, finely diced

1 tsp garlic, minced

100g mushrooms, sliced

1 cup frozen peas and carrots

2 Tbsp worcestershire sauce (vegan)

½ tsp of black pepper

1 tsp of dried oregano
For the creamy sauce
:
3 Tbsp vegan butter

3 Tbsp plain flour

1 cup plant milk
Directions
:
Preheat oven to 180C/350F. Thaw shortcrust on kitchen counter.

Prepare chicken according to package directions. In a large frypan on medium heat, fry the chicken as a mince in 3 Tbsp oil until slightly browned. Remove from pan and set aside.

Using the same pan, fry the onions, garlic and mushrooms until softened. Add the remaining filling ingredients as well as the cooked chicken and stir to combine.

In a small saucepan on low heat, make the creamy sauce by melting the butter, then add the flour and stir until it becomes a paste. Add a little of the plant milk at a time, stirring until it's absorbed by the butter mixture, until all the milk is used. It should be a thick but pourable consistency. Remove from heat and stir in the Deliciou Vegan Cheese Seasoning. Pour the sauce into the chicken filling and stir to combine.

Mould one sheet of shortcrust pastry over the bottom and sides of a pie or baking dish. Spoon in the chicken filling, then cover with another layer of short crust pastry. Trim the edges to fit and seal by pressing with a fork.

Bake for 30 mins or until pastry is golden. Serve warm and dig in!
Grab your
Deliciou Plant-Based Chicken
online and get free shipping for all orders over £20.