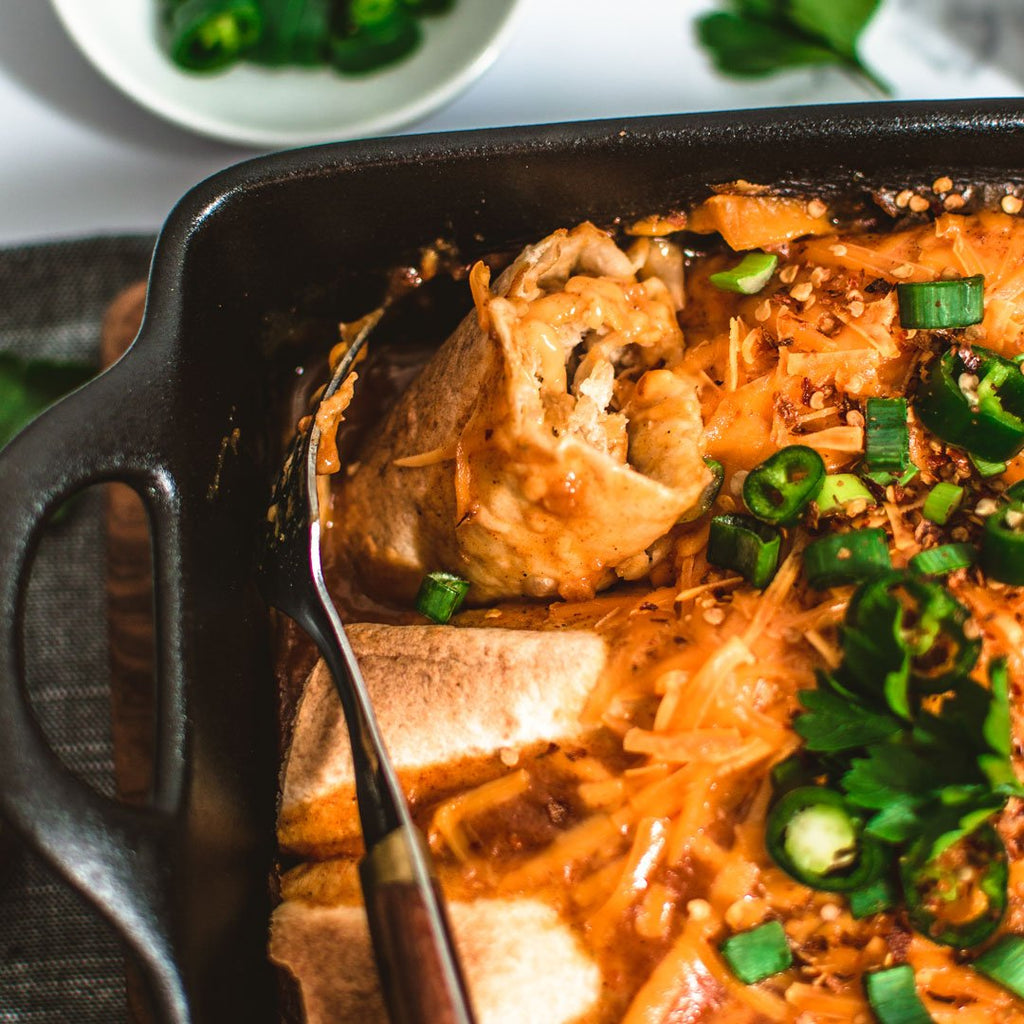 Chicken Enchiladas
Posted on May 11, 2020

It's Enchilada making time! Using all the traditional ingredients and only substituting our Plant-Based Chicken, we'll have you second guessing if these enchilada's are the real deal.


Prep time: 15 minutes
Cook time: 30 minutes
Serves: 4
Ingredients:
1 cup grated vegan cheese

10 corn tortillas


For the sauce:
3 Tbsp vegetable oil

3 Tbsp plain flour

30g sachet enchilada (or taco) seasoning

2 cups vegetable broth

2 cups tomato passata sauce


Top with:
Chilli flakes

Pickled jalapenos
Directions: 
Preheat oven to 180C/350F.

Prepare chicken according to package directions. Shape into 4 large patties, then fry in 3 Tbsp oil until golden on both sides. Remove from pan and slice into 1-2 cm cubes.

Heat 3 Tbsp oil in a saucepan over medium heat, then stir in 3 Tbsp flour until absorbed. Add the vegetable stock, tomato sauce and spice mix and stir to get rid of any lumps.

Cover the bottom of a rectangular baking dish with a thin layer of sauce. In each tortilla, place some of the chicken pieces, a generous spoonful of the sauce and some grated cheese, then roll up and place in the dish. Repeat until baking dish is filled with a row of enchiladas, then pour over the remaining sauce and sprinkle with cheese.

Cover with foil, then bake in the oven for about 15 minutes. Sprinkle with jalapeno peppers or chilli flakes. Enjoy!
Grab your
Deliciou Plant-Based Chicken
online and get free shipping for all orders over £20.